There are many fruits that contains vitamin C but to me, the most effective source comes from Acerola cherry fruits.
The reason why I know this is because whenever I have running nose, a teaspoon of acerola powder will stop this irritating symptom. Of course, there will be times when the flu virus is stronger that vitamin C along can't deal with.
Regardless, a good source of vitamin C helps me most of the time before running nose turns into flu.
Why vitamin c from acerola?
I used to take the common vitamin c supplements found in general wellness store but personally I hate to swallow pills and also, for those vitamin c to work, you need to take in a large dose of vitamin c because of the source is not from natural fruits.
I get to know of the acerola fruit when one of my friends introduced me to a superior (expensive) vitamin c supplement and I found that one of the main ingredients inside is acerola.
I later went online to do research and happy to find there are cheaper alternatives online where I can purchase for acerola vitamin c.
How I get Acerola fruits here in Singapore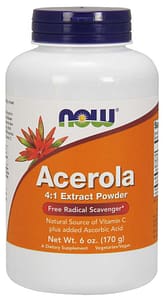 In Singapore, it is rare to see the actual acerola cherry fruits in the market so a better way is to get the powder form and mix with water when you need it every time.
The online store I go is iHerb. You can click on this link to see the exact acerola powder that I drink. A bottle only costs about SG$10 and lasts quite long.
Things to note taking care of acerola powder (if you choose to purchase)
The default container is not air tight, so after a while the powder will harden. I wrap it inside a ziplock bag to keep it fresh for much longer time.
If you are looking for a good source and effective vitamin c, do give it a try!