This page lists down my favorite top 5 health-related products that I often use. I thought these products may also benefit some of you too so decided to share them here.
You can purchase them conveniently at the popular health online shop – iHerb.
1. African Black Bar Soap
I use this African black soap for face washing as it is effective for my acne-prone face.
In the past, I use other commercial face washing lotions but none of them works for me until I found this one online. You can check out the reviews too and I'm sure you will have the confidence to test it out!
Apart from keeping my face clean, one of the things I like about this soap is that it is relatively cheap as compared to any other face washing lotions in the market. One bar can last me several months!
You can also use it for your body if you want to. Click here to check out the reviews and details of the product.
2. Vitamin C Acerola Extract Powder
I have come to discover that a good quality of Vitamin C makes a difference!
On the days that I have a running nose (or feeling a bit under the weather), I just need to take a teaspoon of this vitamin C powder (mix with water) and my running nose will stop after a while!
I strongly recommend this vitamin C powder as it contains extract from the acerola fruit which is very rich in anti-oxidant and helps to improve our immune system.
Just make sure that you keep the entire bottle in a vacuum ziplock bag as the original container is not so air-tight so it affects the dryness of the powder.
Click here to read the reviews and pricing.
3. XyliWhite Toothpaste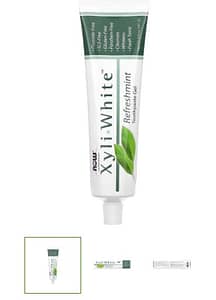 I have been using this toothpaste since many years ago. The reason why I switched from ordinary toothpaste is that this one does not contain the following:
Flouride.
Paraben.
SLS.
Gluten.
The above ingredients are very common in commercial toothpaste nowadays and these ingredients are not too organic and healthy for gum health.
This brand of toothpaste uses Xylitol for cleaning and whitening teeth. Xylitol is a plant-based ingredient that is gentle and friendly for gum and teeth.
I also like the fresh taste and smell of this toothpaste and it is affordable too at only SGD$6 per tube.
You can click here to check out the massive reviews.
4. Sinus Health
This product is quite a life savior for me.
As I have been troubled by sinus issues whenever there are temperature changes or environmental allergens, this supplement helps to ease the irritation of my nose from sneezing and blocking.
If you have also been troubled by sinus issue, you might find this product useful too.
The main ingredient is NAC (N-acetyl cysteine), which is a type of amino acid that does not get produced by our bodies. It can help to reduce inflammation in the respiratory system so thus, it is effective for sinus, nose blocking, and sneezing due to surrounding temperature changes or allergens.
You can click here to check out the details and also the reviews.
5. Probiotics
Probiotics are essential for good intestinal health.
Having a good balance of good bacteria in the intestines can help to improve immunity as well as the skin complex.
Some probiotics are very expensive but I am glad to have found this particular brand that is very affordable.
You can click here to check out the reviews too!
If you like any of the above recommendations, you can also use my coupon code to save 5% (for new and existing iHerb users) when you check out. My coupon code is: ZIM276